2016 - 2017 GATORADE
NATIONAL BOYS BASKETBALL
PLAYER OF THE YEAR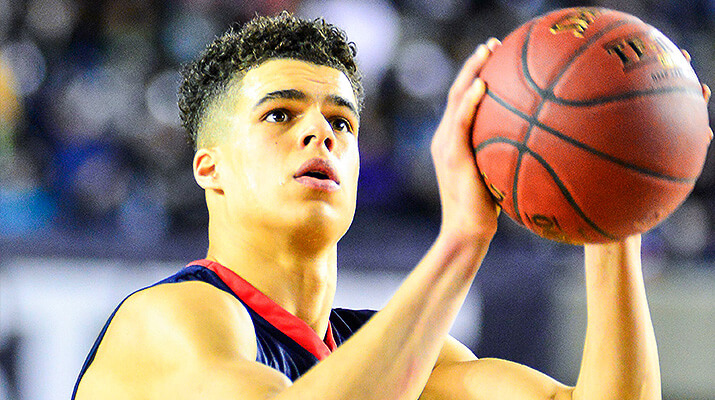 "Michael Porter is the best high school player I've ever seen or played against. There's nothing that he can't do on a basketball court. He can post you up and punish you, but if you put a big man on him he'll just go outside and keep moving back, to 28, 29 feet. He's the first high school player I've ever seen who is basically un-guardable."
Brent Merritt
Head Coach
Athletic Excellence
---
The 6-foot-9, 225-pound senior forward and guard led the Raiders to a 29-0 record, a No. 1 ranking in USA TODAY's Super 25 and the Class 3A state championship this past season. Porter averaged 36.2 points, 13.6 rebounds, 5.0 assists, 3.2 steals and 2.7 blocks per game. A member of the USA Basketball Men's U18 National Team, he has been chosen to play in the McDonald's All-American Game, the Jordan Brand Classic and the Nike Hoop Summit. Porter is ranked as the nation's No. 1 recruit in the Class of 2017 by ESPN and is a finalist for the Naismith High School Boys Player of the Year award. The MVP of the Class 3A state tournament, he was also named Mr. Basketball by the Washington Interscholastic Basketball Coaches Association.
Academic Achievement
---
Porter Jr. has maintained an A average in the classroom. He remains undecided upon a collegiate destination.
Exemplary Character
---
Porter has volunteered locally on behalf of his church's youth ministry and youth basketball programs. "Michael Porter is the best high school player I've ever seen or played against," said Brent Merritt, head coach at Eastside Catholic High. "There's nothing that he can't do on a basketball court. He can post you up and punish you, but if you put a big man on him he'll just go outside and keep moving back, to 28, 29 feet. He's the first high school player I've ever seen who is basically un-guardable."