2016 - 2017 GATORADE
NATIONAL BOYS CROSS COUNTRY
PLAYER OF THE YEAR
HIGHLIGHTED STATS
1ST PLACE
NIKE CROSS NATIONALS FINAL
14:42.9
CLASS 5A STATE CHAMPION
1ST PLACE
NXN SOUTHWEST REGIONAL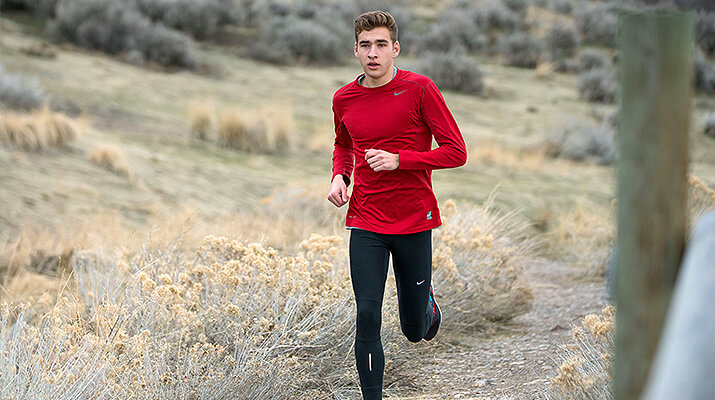 "Casey has been a model of dedication, leadership, perseverance and consistency. He's taken the legacy left by previous captains and augmented it considerably for the next generation of American Fork runners." "
Timo Mostert
Head Coach
Athletic Excellence
---
The 5-foot-11, 145-pound senior raced to a second consecutive national title this past season with a time of 15:28.4 at the Nike Cross Nationals Final. The state's returning Gatorade Boys Cross Country Runner of the Year, Clinger also won the Class 5A individual state championship in a course- and meet-record time of 14:42.9, leading the Caveman to the state title as a team. He broke the tape at the NXN Southwest Regional championships in 14:53 as well as the Westlake Grass Relays, the Nebo Invitational, the Viking Invitational, the Pre-Foot Locker Invitational and the Region 4 championships. He closed his prep career with 15 straight victories at three miles and 5K dating back to 2015.
Academic Achievement
---
Clinger has maintained a 4.0 GPA in the classroom. He has made a verbal commitment to run cross country on scholarship at BYU this fall.
Exemplary Character
---
An Eagle Scout with the Boy Scouts of America and a talented musician, Clinger has volunteered locally on behalf of the Utah State Developmental Center, which assists people with intellectual disabilities. "Casey has been a model of dedication, leadership, perseverance and consistency," said American Fork coach Timo Mostert. "He's taken the legacy left by previous captains and augmented it considerably for the next generation of American Fork runners."