2016 - 2017 GATORADE
NATIONAL BOYS TRACK & FIELD
PLAYER OF THE YEAR
ARMAND 'MONDO'
DUPLANTIS
POLE VAULT/LONG JUMP
LAFAYETTE HS
LAFAYETTE, LOUISIANA
JUNIOR
HEIGHT: 5-FOOT-11
---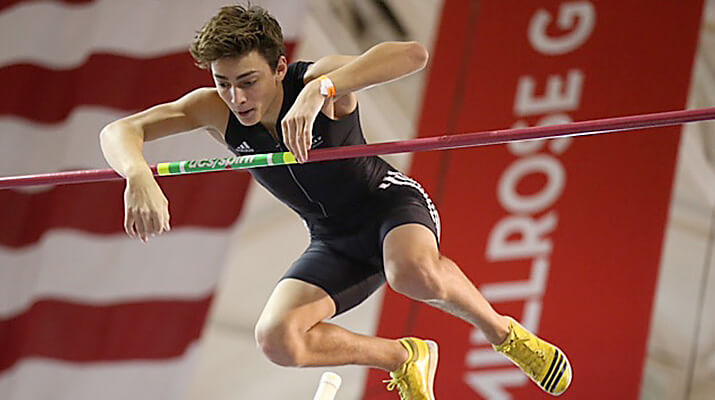 "`Mondo' not only raised the standard for high school pole vaulting, but redefined the potential in the event for teenagers around the world. He thrives on the biggest stage and there is no telling what possibilities lie ahead for him in the coming year after his assault on the national high school and World Junior record books this spring. Not only has he brought a heightened level of attention to the pole vault in the U.S., but also increased appreciation and respect for the event around the world."
Erik Boal
at Dyestat.com
Athletic Excellence
---
The 5-foot-11, 147-pound junior continued to redefine the pole vault event this season, both in the high school realm and beyond. With a clearance of 19 feet, 4.25 inches at the Texas Relays this spring, he shattered the national high school record by nearly a foot. The jump also set a World Junior (Under-20) record and represented the highest clearance in the world in 2017-regardless of age-at the time of his selection. Duplantis has now cleared 18 feet six times outdoors-twice as many as any prep in history. At the state level, he won his third consecutive Louisiana pole vault championship outdoors and also took second in the long jump with a leap of 23-5.5 to lead the Lions to a third-place finish as a team in Class 5A. The 17-year-old's long jump was the nation's No. 147 all-conditions leap among prep competitors in 2017 at the time of his selection. His spectacular outdoor season, which will continue at the European U20 Championships in Italy and the senior IAAF World Championships in London this summer, comes on the heels of a record-breaking indoor campaign in which he became the first prep to clear 19 feet. His vault of 19-1 at the New Balance Nationals Indoor in March also set a World Junior record.
Academic Achievement
---
Duplantis has maintained a 3.29 GPA in the classroom and will begin his senior year of high school this fall.
Exemplary Character
---
Duplantis is committed to promoting his sport, which remains a niche discipline in U.S. prep track, conducting free clinics for youth athletes in the community, both on pole-vaulting technique and stretching. He also volunteers regularly at jayvee and middle school track meets, offering instruction and acting as a meet official. He is outspoken about the importance of setting goals when he guides and instructs youth athletes. "`Mondo' not only raised the standard for high school pole vaulting, but redefined the potential in the event for teenagers around the world," said Erik Boal, editor for Dyestat.com. "He thrives on the biggest stage and there is no telling what possibilities lie ahead for him in the coming year after his assault on the national high school and World Junior record books this spring. Not only has he brought a heightened level of attention to the pole vault in the U.S., but also increased appreciation and respect for the event around the world."